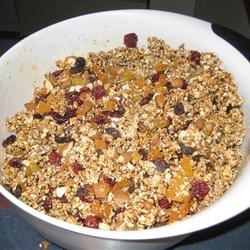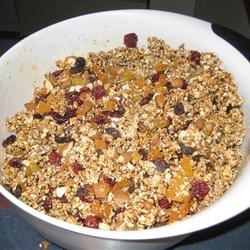 Granola
Ingredients
2 bananas, peeled and diced
1 1/4 cups dates, pitted and chopped
1/4 cup packed brown sugar
1/4 cup hot water
1 tablespoon vanilla extract
1 teaspoon ground cinnamon
8 cups quick cooking oats
8 ounces dried mixed fruit
8 ounces blanched slivered almonds
How to cook?
Preheat oven to 250 degrees F (120 degrees C).
Puree the bananas and dates in a food processor. Add the brown sugar, hot water, vanilla and cinnamon; mix well.
Pour mixture into a large mixing bowl, add oatmeal and mix well.
Spread onto large baking sheets and bake at 250 degrees F (120 degrees C) for 1 to 1 1/2 hours stirring frequently. Cook longer for crunchier if desired. Once cooled add the dried fruits and nuts, as little or as much as you want, and mix.
Subscribe to get daily recipes right to your inbox